JCT Travelling Tips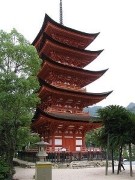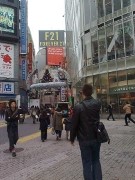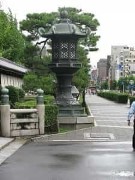 To help make our tours run smoothly and enjoyably for everyone we have a number of simple guidelines that reflect the style and type of tours that we run. For the majority of people they are simple suggestions, basic courtesy and common sense. These help make your trip and tour more enjoyable.
We run small tours so are in close contact with our guests for the duration of the trip. We will treat you with respect and politeness and we expect the same in return. That extends to any other guests people on the tour, interaction with the people we meet such as staff in hotels, restaurants, and stores.
Tour Itinerary:
Prior to your trip we will have agreed an itinerary and JCT will be working to that schedule. During the tour itself, alternative activities and requests may be able to be included, but this depends on a number of factors, including if it is practical to make the change. That includes times where we change the order of days to take advantage of fine weather for outdoor sightseeing.

We aim to provide flexible timing for sightseeing on our tours so you have sufficient time to enjoy the different aspects of Japan. However, there are times when punctuality is important. For days where we are travelling between cities we reserve seats on particular trains. It is important for everyone to be able to get the same train as sometimes the next train may be several hours later. On days sightseeing in different locations we will agree a meeting time to commence the days sightseeing activities. This will usually be the same time across the trip, and be confirmed the previous day in case there are any modifications for particular events.

On occasion events beyond our control will interrupt the tour schedule. These include transport delays or weather events such as typhoons. In those cases we will use our experience to determine the best course of action in the circumstances and explain our recommend course of action to you. This may include cancelling the activities for a day or changing the route/location, typically for safety reasons.
Hotel rooms:
We aim to book good quality, comfortable accommodation with hotels averaging 4* to 5*. In some places, due to lack of availability we may occasionally select a hotel at 3 ½* and the grading systems for ryokan is a bit different. We generally do not book the most basic rooms.

For some hotels we include breakfasts within the bookings, and in others we find a US$30+ breakfast option is unreasonable (especially for the hotels in Tokyo). For ryokan (Japanese inn) accommodation that normally includes meals.

For mid-range hotels many Westerners are surprised at the modest size of the average Japanese hotel room. Some also have 'pre-fab' type bathrooms (which are installed in one piece) but these are perfectly functional, spotlessly clean and include amenities like toothbrushes and toothpaste.

Rooms with twin beds are very common (due to the Japanese norm of sleeping on single futons). Smoking rooms or floors are also common and some hotels do not have non-smoking rooms. By default we book non-smoking rooms, but on occasion specifying a non-smoking room is not an option for our bookings and sometimes to secure the necessary rooms there will be smoking rooms. We will endeavour to book according to your preferences. We find mattresses tend to be firm, which is good to know in advance!

Most rooms include summer kimonos (yukata) and slippers for relaxing in. Some even provide cotton pyjamas. Like western hotels there will be a small fridge with mini-bar. Green tea will also be available and sometimes coffee. English tea isampless common as are tea spoons and milk, but a quick trip to a convenience store can solve that. Hot water may be either from a kettle or a hot water dispenser.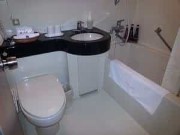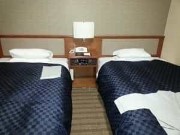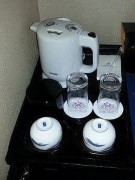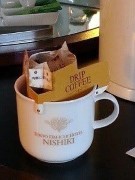 Luggage:
Guests do need to be able to manage their own luggage. This helps ensure you do not over pack, and also relates to fitness. JCT staff will also have their own luggage to manage and we are here as guides, rather than baggage handlers.

We recommend luggage is kept to one modest sized case and a day bag/pack. A good size indication is around 30c, x 50cm x 75cm. Why? Because we mainly travel with our luggage (the luggage forwarding system is next day) and there is limited space on trains. On the train there are overhead racks and the space is sufficient for a sensibly sized case and if you pack heavy you may need to sit with your case at your seat.

Your luggage will also follow you around train stations, along streets and even up and down steps (not everywhere has escalators or elevators). We minimise this in our tour planning, but in many places it is unavoidable. In addition, despite our selecting hotel rooms with above average size, Japanese hotel rooms might be smaller than you are used to and in some places there is limited space for luggage.

If you are investing in a new suitcase we recommend one with either two or four wheels. A backpack is also a good choice to carry a range of items (umbrella, camera, shopping) both for your flight and as your daytrip bag.

Related to the compact or efficient nature of Japanese hotel rooms, bathrooms can also be small and we suggest travelling with a toilet bag that you can hang from a hook.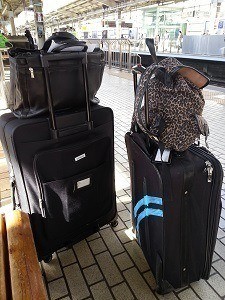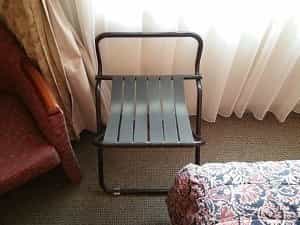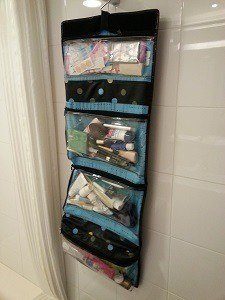 Laundry:
For out longer tours we frequently use the services of a local Coin Laundry. Some hotels and apartment hotels have a laundry for guests, other wise we may visit one in the local neighbourhood. Doing small amounts in hotel rooms is another option to extend the life of the clothes you bring - recommended fabrics for drying overnight are merino wool and 'quick drying' sports clothing.
Wi-Fi and Internet:
Japan does have a lot of free wi-fi hotspots, but in general they tend to be unreliable and many require pre-registration. Most hotels/ryokan we use include free wi-fi. If you need internet connection during the day when we are out and about, we can arrange additional mobile wi-fi routers for you to use.
Fitnessamplevel:
We expect our guests to have an average level of fitness as our tours involve walking and steps. Touring and sightseeing in Japan requires both. While the transport system is very good, there are many places that the train system or taxi service cannot reach.

For private and exclusive tours we can adjust the amount of activity each day and will generally plan your tour to take your fitness into account.

In some locations there are not convenient elevators or escalators. This includes some smaller railway stations where you might need to carry our luggage up and/or down a flight of stairs. There are certainly many tourist sightseeing spots where steps or hills are unavoidable.
Medical issues and food:
Guests need to disclose all relevant current illnesses, recent surgeries, disabilities and allergies (including food allergies). We need to know about these in advance of the tour. Some examples would be a recent knee replacement, presence of a heart pacemaker, allergic reaction to bee stings.

When flying with prescription medications always carry these in your on-board luggage, in their original packaging in a clear plastic bag. Having medication go missing due a lost bag is a very bad way to start a trip.

Being vegetarian in Japan is tricky. While sticking to vegetarian food is possible, our previous vegetarian guests have been surprised at how difficult food options have been. "Vegetarian" sometimes has different meanings here in Japan with chicken often assumed to fit into the vegetarian menu (because chicken is not meat - despite the default word for meat being chicken - go figure). Depends a little on how strict the diet is, but the basic warning is that meat free meals can be harder to find because of the presence of fish and meat sauces/stocks used in cooking. Determining vegetarian dining options is the responsibility of the guest rather than JCT. While vegetarian options are available we do not cater for vegan or halal cuisine as it is extremely difficult to find appropriate food options.
Useful things to pack:
Our #1 recommendation is good walking shoes, followed by casual and comfortable clothes. Having a jacket or coat you can take off and items that you can wear in layers is a good idea. This is especially true on the trains that the Japanese insist on heating excessively, especially in winter.

You can also bring packaged food into Japan. If you have a favourite cereal, you should also pack a plastic bowl and spoon. A box of snack bars may be useful, but you will find plenty of food wherever we go.

Other useful things to pack are an umbrella (good for rain and sun protection), a small Japanese phrasebook and perhaps a few small souvenirs from your country to give to new friends.
Miscellaneous:
Travel with plenty of yen! While credit cards are becoming more accepted, there are still plenty of occasions where cash will be required. Larger stores in cities will take cards, but even in some tourist areas shops will still not be able to take a card. Accessing cash is pretty easy as the ATMs of 7-11 stores and JapanPost take overseas issued cards.

Having a few words of Japanese helps to be a polite traveller as you are a guest in Japan. Just a few words can make a big impression.

Hello - konnichiwa (con-knee-chi-wa) can be used at any time of day

Please - onegai shimasu (o-knee-guy-she-muss) used when offered something ("yes, please")

Please - kudasai (coo-da-sigh) used when requesting something ("coffee, please")

Thank you - arigato (ah-rah-gah-toe)

Excuse me, sorry - sumimasen (sue-me-ma-sen)

Yes - hai (high)

No - iie (ee-eh)

Cheers! - kanpai (can-pie)
---