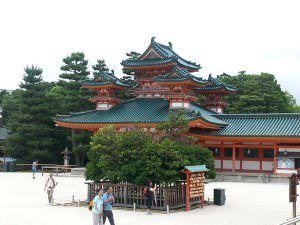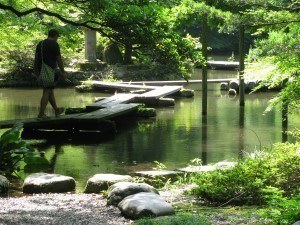 If you are interested in joining this tour, you can use the contact us form or email us at admin@japancustomtours.co.nz.
Early Autumn - September 2015 Tour
We are currently taking bookings for September 2015. Due to a cancellation, the second half of the month has been opened up so if shaping the itinerary is something you would like to contribute to, please get in touch.
The schedule is in two parts. The first half covers 3rd to 15th September (13 days/12 nights) and unfortunately we have no additional spaces for this segment of the tour. The second part covers a week in Tokyo depending on your requirements.
Joining a tour: We try to meet you at your preferred arrival airport, but due to different schedules, that might not always be possible. If we are unable to meet you at the airport we will provide you with detailed instructions on how to join the tour.
Departing a tour: Activities on a day where you are departing a tour will be adjusted to take into account travel time to the airport.
Itinerary
3rd September Tokyo: We are scheduled to meet guests arriving at Narita Terminal 2 before travelling by Narita Express (N'Ex) train to Shibuya Station to reach the Cerulean Tower Tokyu Hotel. Options for the evening include dining out or seeing some of the city at night.
4th September Tokyo: Visit Asukusa Kaminarimon (thunder gate), Hozomon and pagoda. An array of stalls lines the entrance to this shrine. Either lunch from the food stalls or from a nearby restaurant. In the afternoon, visit one or more of the famous neighbourhood areas of Shinjuku and Harajuku. This allows time to see the Meiji Jingu shrine, the expansive Shinjuku gardens or whatever you would like to do or see.
5th September Tokyo to Kanazawa: The town of Kanazawa (''Little Kyoto'') is reknown for many things including the famous Kenrokuen Garden and Kanazawa Castle. Enjoy the local cuisine including the option of enjoying fresh sushi and sashimi at the local fresh food market.
6th September Kanazawa to Kyoto: Leave Kanazawa and head to Kyoto. The afternoon allows time to visit to the famous Inari Fushimi shrine (10,000 tori gates) which is spectacular, very easy to get to (right next to a train station) and is a good option for sightseeing in the late afternoon. Suggested dinner options while in Kyoto include Japanese pancake (okonomiyaki) or Japanese BBQ.
7th September Kyoto: Travel to the north east of the city to Ginkakuji (the ''silver pavilion'') before taking the Philosophers Path walk towards the Heian Shrine. Another worthwhile site is Toji with its five story pagoda (a symbol of Kyoto).
8th September Kyoto: Day trip to the World Heritage Site at Nara. At Nara there is both Todai-ji temple (with the world's largest bronze Buddha), and Kagusa Shinto shrine. There are sacred deer roaming the park and excellent souvenir shops on the walk to Todai-ji.
9th September Kyoto: Shopping at the 400 year old covered Nishiki Market, which includes both general goods and fresh food shops. The Isetan and Takashimaya department stores are also excellent for shopping and both have vast food halls. Other options include a visit to the "golden pavilion" Kinkaku-ji or exploring the old Gion district. During the evening, visit Kodai-ji temple. The temple complex includes a Zen garden, bamboo forest and artisan souvenir shops.
10th September Kyoto to Hiroshima: Travel to Hiroshima (around two hours, 380km). During the afternoon, visit the historic A-dome (atomic bomb dome), Peace Park and Museum complex.
11th September Hiroshima: Visit Miyajima Island and Itsukushima Shrine, location of the famous "floating" tori gate. This requires a short local train and ferry ride. Ferry tickets are covered by our JR passes.
12th September Hiroshima to Takayama: Travel by shinkansen and then local train to the mountain town of Takayama, staying at a traditional Japanese ryokan (inn), complete with onsen (hot springs bath).
13th September Takayama: Many options are available including: visiting the Hida Minzoka Mura Folk Village (a short local bus ride from Takayama), taking a ½ day bus tour that visits the World Heritage Site of Shirakawa-go with its old traditional "A frame" farmhouses, take a ride on the Shinhotaka Ropeway, or explore the town's historic buildings and shops on foot and/or visit the festival floats exhibition hall.
Monday 14th September Takayama to Tokyo: Transfer back to Tokyo to indulge in souvenir shopping or perhaps a visit to Akihabara to explore one of Tokyo's centres of manga/anime/Japanese pop culture. Store destinations in Akihabara include Gamers, Toranorana and Animate.
Tuesday 15th September Tokyo: An additional day in Tokyo for our scheduled guests. In the late-afternoon, we will be transferring them back to Narita for their evening flight.
Wednesday 16th September Tokyo: A free day allowing people to take excursions to Hakone/Fuji, Nikko or one of the theme parks (Disney or Fuji Q).
Thursday 17th September Tokyo: Visit the industrial city of Yokohama take part in some lesser known but very popular events such as "Yokohama Industrial Night Cruise" and visit the famous "cup noodle" museum.
Friday 18th September Tokyo: We have secured a box seat for the Tokyo sumo tournament and will incorporate it into the day's activities for a limited number of guests.
Saturday 19th September Tokyo: A free day to further explore Tokyo. Alternatively it is an opportunity to take a day trip bus tour to Mt Fuji, Nikko or take the train to Nagano to see the Jigokudani monkey park or to the south to Kamakura with its Hase Dera shrine and bronze Buddha.
Sunday 20th September Tokyo: A visit to Harajuku - not only a great shopping area but we may get to see local cosplay (as it is Sunday). For those wanting a dose of culture, visit the nearby Meiji Shrine.
Price Inclusions/exclusions
The price for a fifteen day tour (accommodation for fourteen nights) is from Y495,000 per person share twin/double. This takes into account the accommodation rates and availability that we expect to be in place at the time of bookings.
Prices include rail transfers from Narita to Tokyo and 14 day rail pass. Prices generally exclude meals and incidental costs unless specifically included. As a guide for budgeting, Y7,000 per day per person would cover breakfast, lunch and dinner as well as a range of tea/coffee, snacks and vending machine drinks during the day.
Please let us know if you would like breakfast included in your hotel bookings and options of twin/double beds. The price of meals is generally not included as Japan offers a huge range of dining options, and our guests are free to choose alternatives. If you would like an all inclusive package covering incidental taxis, entrance fees and meals, please add Y10,000 per person per day to the above prices.
Bookings and Inquiries
If you are interested in joining this tour, please contact us or email us directly at admin@japancustomtours.co.nz.
---